Curie Elementary Telescope Program
We have telescopes that you can check out from the library!
News
Astronomy Night 2012: February 23!
Thanks to SDAA for bringing seven (I think) big scopes to Astronomy Night (Click on the image below for a blowup and count them yourself. The shot is a long exposure shot in the dark.)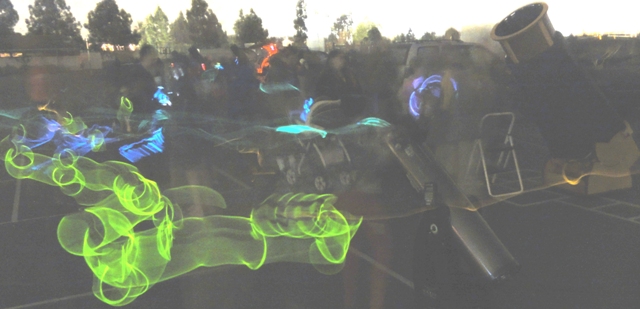 We have a new scope. It's a robotic scope that aligns itself. You turn it on, and then hit a "Tour" button. Around the sky you go.

It should dramatically open up the sky to even novice observers!

Note: scope checkout will be directly through me until we get a permanent librarian again. Please email me if you are interested in using either of our scopes (you must be a Curie Parent). My email is at the bottom of this page.
Since the Scopes have been introduced to the school in the 2010-2011 school year, they have been used by Curie Families, at training and observing sessions, at school and in the desert, by the Cub Scouts and by the Girl Scouts. Year number two will see expansion of the program to a robotic self-aligning scope as well as more training for more families, including the use of both computer systems.
In order to check out either of the telescope, you must attend (or have attended) a training session, which offer periodically. The next training is on October 19, at Family Science Night.
Marie, our original Orion Starblast 6i is available right now to those trained last year (email me).

In addition to the general astronomy guidance already posted on this site, we now have specific instructions for using this scope.

"We borrowed one of the telescopes last week when we went camping and had a great time with it. We had very nice views of the moon and Saturn (including the rings!) and the Orion nebula."

- Van Daelen Family

"Just wanted to let you know of the great time we had with the scope last weekend -- Saturn was the 'star' of the night. The neighbors came over -- people were really blown away how clearly you could see it."

- E. Cole.
Links
---
Special thanks to Billy Bellefleur of Bentley Systems for designating his 2010 grant money to Curie Elementary School.