"Fun" Equipment
There are recommendations all over the web comparing, evaluating and recommending astronomy equipment and accessories. A good portion of this website talks about equipment suitable for an inexpensive telescope program.
This page contains my personal recommendations for or comments about "fun" equipment. I share what I'm liking, suiting my interest and perhaps narrow needs. It's not intended to be a comparison of a product and its competitors. My intent it to highlight items that unique and without direct competitors.
I refrained from calling this page the "Toys" page, because, if I'm being honest, every piece of astronomy equipment falls into the "Toy" category. My focus here is for "non-essential" stuff that is primarily "fun". For example, I love my Nagler 31, but that eyepiece is essential and wondrous. It is fun, but it is fundamentally a serious thing.
My initial recommendations are:
The Nexus is more of a "new" thing, than a "fun" thing, but I really love it. The future of controlling your telescopes is the smartphone or, preferably, a tablet. The Nexus essentially connects your mount wirelessly to your iPad or tablet.
If a picture is worth a thousand words, then look at this picture below and answer this question:
which interface is more intuitive?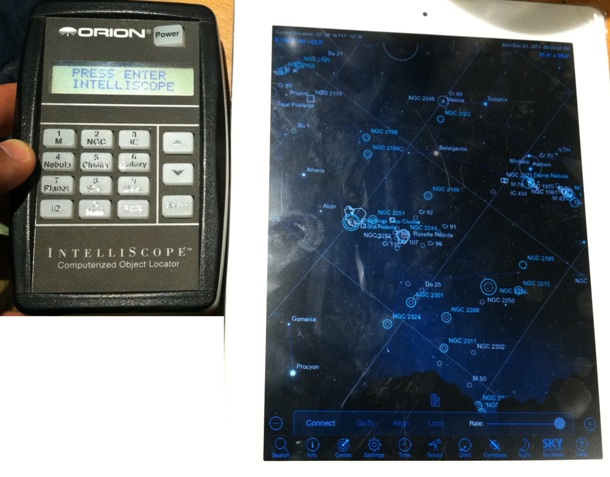 Hand-held, character-based menu navigators are obsolete; an immersive, telescope-tracking map is the future.
There are proprietary wireless devices that connect your old school LCD-text hand controller (and generally only that brand) to your tablet, but the Nexus allows you to go straight from the telescope's encoders to your smart device. Before buying a WiFi device built for your specific telescope, consider the Nexus. It's a better investment, because it works for almost anything.
I have three scopes/mounts with encoders that work with varying old-school hand controllers. I can use my Nexus with any of them. The only time I use a hand computer is if I'm running two scopes at the same time.
Below is a video (poorly shot with my phone, sorry) demonstrating SkySafari on iPad navigating a Meade Lightbridge 12 via the Nexus.
Almost all frequent observers have some way to carry their eyepieces around. I convinced my wife that I should have Ron from Wood Wonders build one of his custom cases for me and that she should pay for it as a Father's Day present. It's beautiful and very, very functional. I rotate through a lot of equipment, but knew I'd be keeping it for the rest of my life.

It was a great gift, I think of my wife and son every time I use my telescopes!
This is another "lifetime" piece of equipment. I really expect to be wearing one of these watches when I die (hopefully that won't be for a long time).

I really love this watch. Just from the information shown on the picture at the right I can see a crazy amount of information:

the time
the moon phase
sunrise and sunset times
moonrise and moonset times
where the sun is spatially
where the moon is spatially (15 degrees east of the meridian)
day length vs. night length

It really put me back in touch with the sun and the moon, and it's useable everywhere 24/7 (unlike the rest of my equipment).

I'm so impressed with the interface, I devoted several pages to it.